Back to all posts
Posted on:
Bucket of Thanks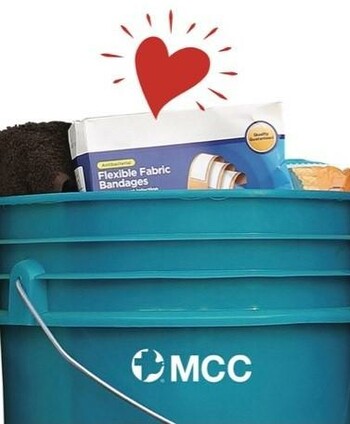 ERHS has a BIG Heart!
This year, from November 1st to December 1st, a group of ERHS students is fund-raising to get money to buy supplies for the MCC "Bucket of Thanks" Charity
As part of our Christmas Preparations, we think it is important to remember how fortunate we are, and to share our good fortune with others. The Mennonite Central Committee assembles and distributes these kits to places that are torn by war or natural disasters. The kits are sealed in a new clean 5 gallon plastic bucket, and they contain things like bath towels, soap and toothbrushes.  There are also kits to help with baby care and with school supplies. There is a list of what is in each kit, and we want to raise enough money to buy the supplies to fill 4 - 6 buckets. We will drop them off at the MCC Thrift Store in Lethbridge, where the kits are sent to Calgary for distribution to places like Haiti, Bosnia, Syria and the Ukraine. Some kits even go to remote communities in Canada that are in need of  help with basic hygiene.
We will be selling chips for $1 a bag at lunch time and we are planning a bake sale as well. We would also appreciate any donations that you or your family might like to make to help us help those less fortunate than us.
Gratitude matters; make it a part of our lives!